Merry December Everyone!
I know that we are still going through some very strange and unusual times yet everyone at Treetops really hopes you are all looking forward to Christmas, whether that will be spending time with loved ones, enjoying family traditions, watching Christmas movies or relishing in some well earned time off.
As a team we have not been able to celebrate in true Treetops style this year with our decorations, Christmas jumpers, Christmas Ball, yet we are not deterred, we have popped some lovely reindeers on the roof of the practice and we are planning a Treetops team summer barbeque.  Just in case you missed our photos from last year's Christmas Festive Frivolities I have popped some below…I am certain they will make you smile!
Thank you  
As Practice Manager of Treetops I wanted to take this opportunity to thank you all for your amazing understanding of the changes in how we have cared for and treated you in 2020.  The support and feedback from you all has been incredible and the team thank you all so much.
I would also like to give a special shout out to each and every member of the Treetops team; some having worked tirelessly during lockdown, caring for you all through triaging over the phone, delivering prescriptions and temporary filling kits whilst others spent so much time calling patients to touch base and checking everyone was ok.  In addition, since we reopened our doors on June 8 2020 they have adapted to so many changes to their working procedures yet they have done this with a real team mentality and always with the focus of 'safety first'.  They are an amazing and talented team of professionals who thoroughly enjoy being 'your dental professional' and I wish them and yourselves, an amazingly fun and restful Christmas and a healthy COVID free 2021.
Last but not least I would like to pass the pen over to a truly inspiring, talented and accomplished dental professional; he has given 52 years to Dentistry and 50 of these serving the Codsall community.  Mr Richard Glover will always be an important and special piece of the Treetops jigsaw. The team will miss him dearly and we all and I am sure you will agree, wish him a long, happy and healthy retirement.  We have all made a pledge that we will continue to care for and treat all of his patients in the same caring and professional manner and with a continued focus of 'patient comes first'.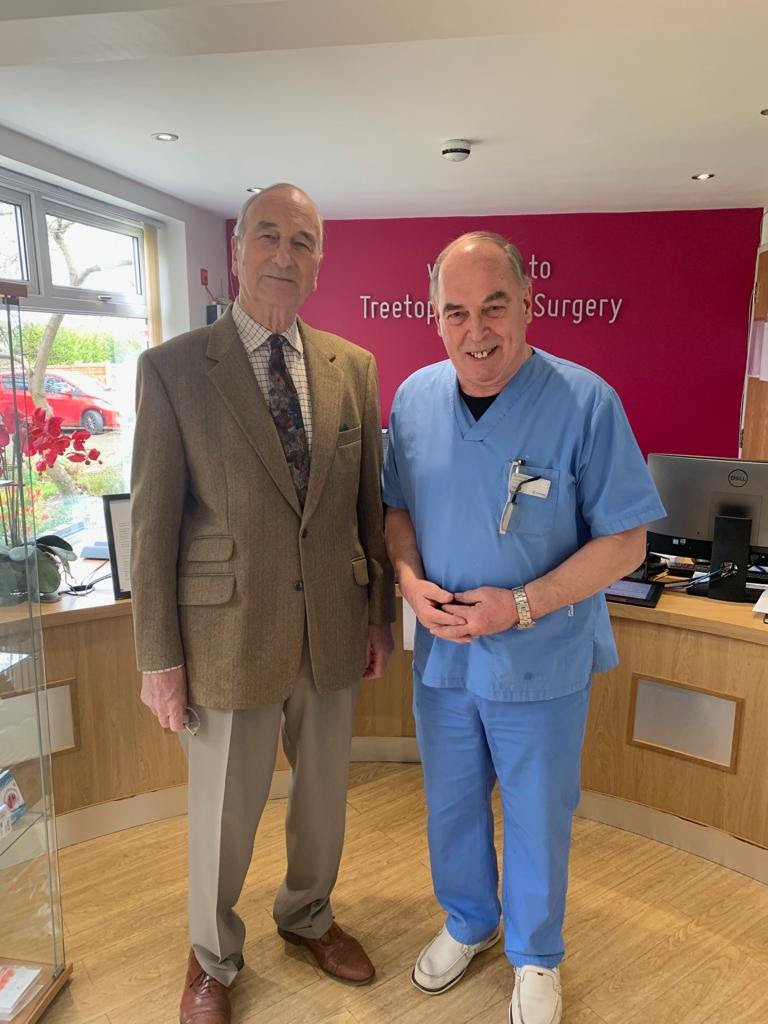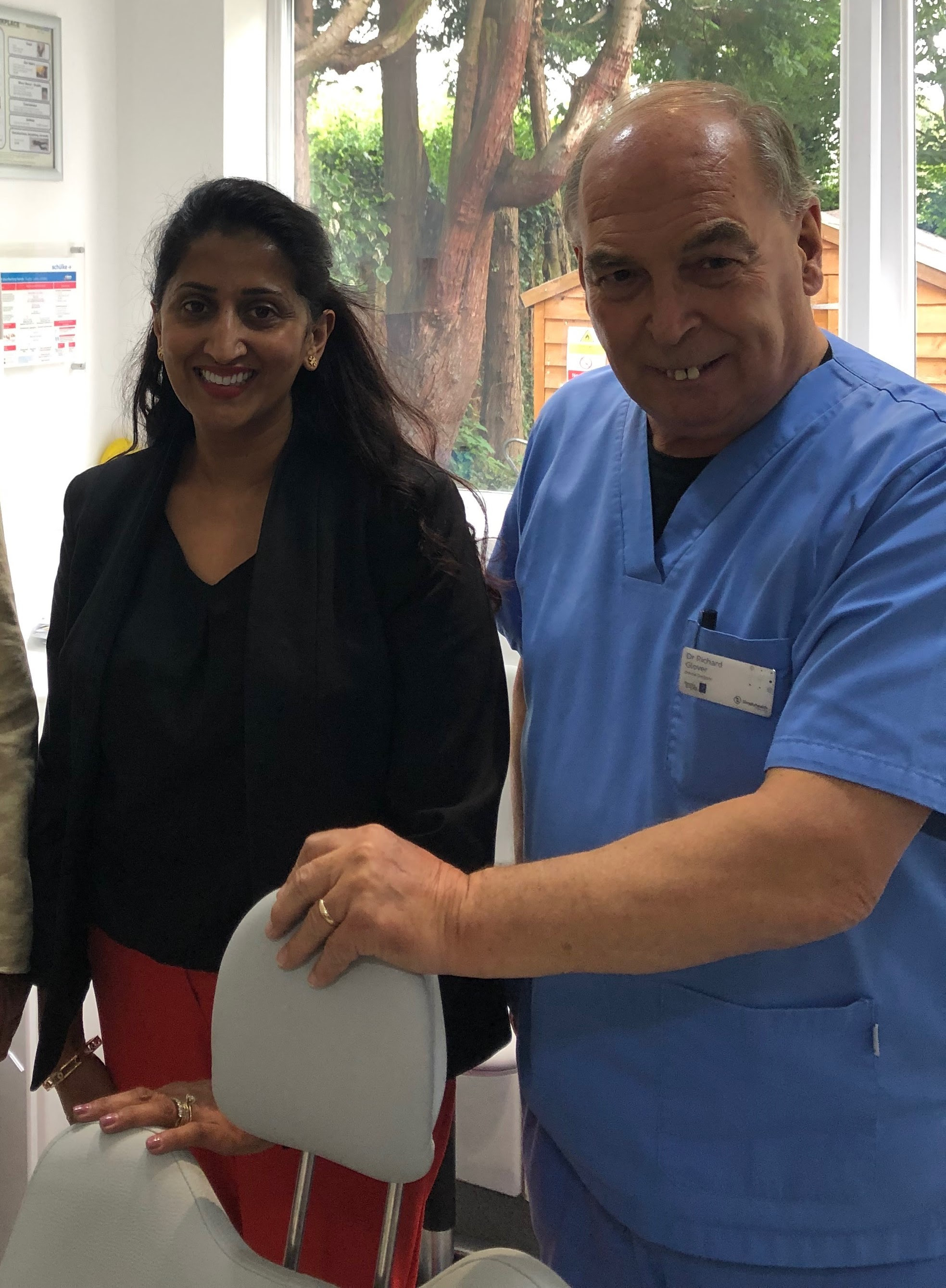 A heartfelt message from the man himself…
I have decided to retire after 52 years as a dental surgeon and 50 years in practice in Codsall.  This decision has been very difficult to make but my tender age of 75 and the coronvirus pandemic tells me that now is the time.
It has been an absolute delight to treat you for so many years and to enjoy the wonderful cooperation that you have contributed to your treatment.
I will miss life at Treetops yet I have many happy memories spanning over 45 years which will be with me always.
Practising dentistry has changed a great deal but the fundamental principles of being kind, caring and considerate still feed through every interaction at Treetops.
I thank you and wish you all a merry Christmas and a happy, healthy and prosperous New Year.
I would now like to pass over to the experienced and skillful Dr Amit Pankhania who is looking forward to caring for and treating you all over the coming years with the same care and skill.
                                                                                          
Treetops welcome Dr Amit Pankhania bds.
A message from Amit…
Firstly, I want to share with you, that I totally understand any change of dentist is something most people could find a little unsettling. Please be reassured that my initial focus, coupled with Emma and the Treetops team, will be to make this transition as comfortable and seamless as possible.  I also want to reassure you that the foundation of my delivery for dental care is about taking time to listen to your wants and needs, thoroughly explaining treatment choices and delivering them with skill and consideration.
I graduated from University of Sheffield in 2012 with a Bachelor of Dental Surgery.  I have since acquired a broad range of experience working in practices in Nottingham, Chesterfield and Evesham.  I enthusiastically and successfully continue to develop my knowledge and increase my skills by attending many post graduate training courses. My interest in working with anxious patients has encouraged me to commit to a further degree in Dental Sedation and Pain management at UCL.  I am passionate about dentistry and pride myself on delivering the treatment and care my patients want and deserve.
Outside of Dentistry, I love spending time with my dentist wife: Manisha and our beautiful baby daughter. We love to explore the picturesque British countryside, enjoying the local wildlife and visiting new towns and cities. I have participated in Tough Mudder and X runner which I thoroughly enjoyed and survived! I love being part of a team and playing cricket and football are also a huge part of my life.
I am really looking forward to meeting you at your next appointment and getting to know you.  In the meantime should you have any questions at all please drop me an email to reception@treetopsdentalsurgery.co.ukor speak with Kerrie, Linda or Kira on reception and they will pass a message on to me
GDC membership number:229292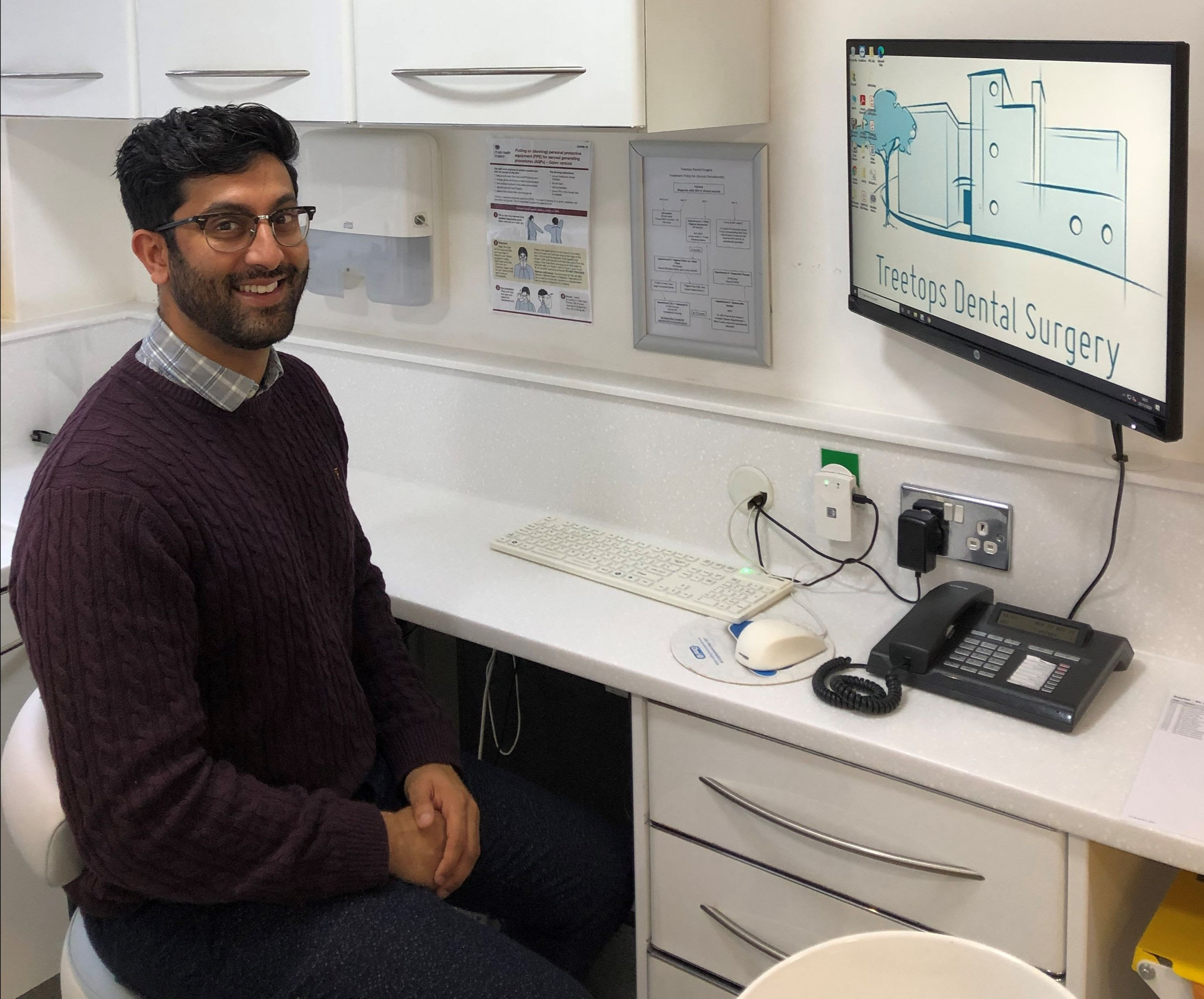 On a completely different note……..
As we couldn't do our usual Treetops blue lip selfies this month, we could still use snap chat filters to get the message across!
By spotting mouth cancer early, we have a much better chance of beating it.
With early diagnosis, the chances of surviving mouth cancer are nine out of ten – those odds are pretty good, and that's why knowing what to look out for is so important.
Sadly, far too many mouth cancers are not spotted early enough.
During Mouth Cancer Action Month we are promoting the message 'if in doubt, get checked out'.
We encourage everybody to be mouthaware and pay close attention to what's going on inside the mouth.
Most importantly, if you notice anything out of the ordinary, it is essential that you tell your dentist or doctor immediately.
With thanks to Kira, Kerri, Linda, Louise, Amandeep, Liz, Charlotte, Simi, Edwina and the fabulous Fran & Viz for their fantastic blue lip selfies below:
1. If you live in a one story house made entirely of redwood. What colour would the stairs be?
2. Mr and Mrs Mustard have six daughters and each daughter has one brother, how many people are in the Mustard family?
3. David's father has three sons: Snap, Crackle, and _____?
4. What has a neck and no head, two arms and no hands?
5. Two fathers and two sons went fishing one day, they were there the whole day and only caught 3 fish, one father said, that is enough for all of us, we will have one each. How can this be possible?
Let`s get to know your Dentist Amandeep
Name: Amandeep Bhamber
What is your job? 
Dental Clinician
How long have you been a Dental Clinician
5 years!
What was your very first job?
I worked at curry`s selling TV`s, it was great!
Then I had to give it up as I had to concentrate on my A-Levels
What did you want to do when you were at school?
I think I wanted to be an electrician; I just like playing in dangerous situations!
What made you want to become a dental clinician?
I like talking, a LOT! My sister became a dental clinician and she always spoke of great days talking to lots of people, I realised there was a job where I could talk all day long and still use my hands.
What did you do to become a dental Clinician?
As soon as I left sixth form, I enrolled in Birmingham University and graduated after 5yrs, during this time I did work experience and some charity work, I volunteered for practices to hone my skills, then revision, revision, revision!
What is a typical day like?
My mornings are usually set aside for assessments and for patients in pain, as well as routine dentistry such as filling, crowns and bridges, then the afternoon appointments are pretty open for anything else that comes my way, this is the part of the day that anything can happen!   Everyone has a story, its fun because just when I think I've seen it all, someone will come in with a dental problem that I've never seen before, so even after all this time, I'm still learning.
What's the best thing about your job?
My patients, I have been blessed with the best, most hardworking and conscientious patients.  Aside from that I love getting people out of pain.
What is the most challenging thing about your job?
Sticking to a time slot sometimes & especially during covid can be difficult, it is hard now to get everything done in one day.  It's all about time management, and going above and beyond for your patients.
What advice do you have for people who want to do what you do?
Practice working with your hands,
Enjoy talking to people & practice it!
Get as much experience as possible
Find a good mentor and use them
Do you have a favourite memory working at Treetops?
Life at Treetops moves so fast it is a real blur, yet always fun! The Christmas quiz last year was great!
Doing a filling for Peter Vivdee
The very first time we all went to Nandos to welcome me to the practice, it was so fun!
And lastly every interaction with Kerrie on reception
Thank you Amandeep!!!
1. There are no stairs, it is a one story house

2. There are nine Mustards in the family……since each daughter shares the same brother, there are six girls, one boy and Mr and Mrs Mustard.

3. David

4. A shirt

5. There was the father, his son, and his son's son. This equals 2 fathers and 2 sons for a total of 3!
Where does the general keep his armies? Up his sleevies
What did the mayonnaise say when they opened the fridge door? – Close the door im dressing
Whats a foot long and slippery – A slipper
What do you call a small mother? – A minimum
What do you call dentures for sheep – Lamb chops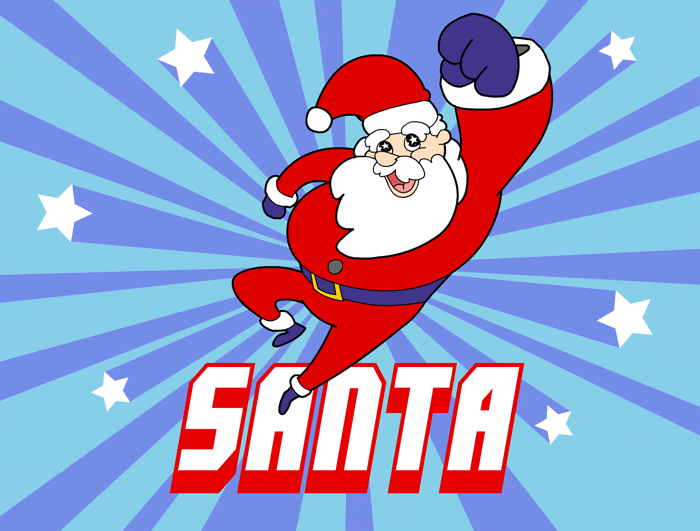 We wish you all a fabulous Christmas and New Year
Love all of the Treetops Team