Where do I start!?
Let us just say the last 11 years have been a total whirlwindyet one that I can honestly say I have thoroughly enjoyed!  As my 11th year begins, I have taken the opportunity to reflect onmy time with Treetops and I realise just how far we have come as a practice.
My Treetops journey began on July 1st 2010 and I was fortunate to take over the reins of this well-established practice from the renowned Dr Glover and Dr Holden.  However, I knew from day one that I had excessively bigshoes to fill!
I vividly remember the feeling of trepidation at the responsibility I had committed to and the excitement and aspirations I had, not only to maintain the great work of Dr Glover & Dr Holden yet to develop the practice to make it even bigger and better with the 'Patient Comes First' focus at the forefront of every development. I am proud to say that being the Director of Treetops still gives me the same excitement and buzz today.
My first change was to not only modernise it, yet to also change the structure of the building to enable us to increase our surgeries to allow us to cater for our increasing patient base.  Who knew that 11 years later we would need to go even bigger? Watch this space as we will reveal our plans over the coming months with yet another extension, I think this alone is testament to how successful Treetops has been.
My ambition to cater for all our patients needs under one roof has been achieved.  We now offer every dental discipline in-house. As a patient there are very few occasions when you would have to go to another practice for treatment.  We are proud to say we offer Orthodontics, Endodontics, Implants, Periodontics, Cosmetic, Facial Aesthetics and General Dentistry and are in the unique position of having our own in-house laboratory.
We have introduced the most cutting-edge equipment with our microscope, Intraoral cameras, iTero 3d scanner and CBCT x ray machine, as well as investing heavily in our team with their various training courses.  Nothing is off limits when it comes to growing and making our team feel valued and supported. Teamwork is what makes us grow stronger as a practice.
Our ethos is to treat each other with respect and kindness, and I witness this daily. I see the team working together and supporting one another and it truly warms my heart that all our hard work has created such a lovely place to work and visit. It is especially wonderful to me that we still have three of the original staff members Linda, Kerrie and Steve.  Wehave all shared so much over the years and I would like to personally thank them for their support.  Furthermore, our growing current Treetops team compliment this strong foundation and I thank all of them for having faith in Treetops.
I would also like to thank our patients and the wider community; it has been so heart warming to be welcomed into such a wonderful village.  We have been so lucky to be invited to the local schools such as Codsall High School and Wolverhampton Grammar to promote good Oral health and healthy lifestyles. We also have helped the wider community with donations to Compton House and our work with the Virdie Foundation, giving out food and blankets to the homeless over the winter.  I strongly believe that sharing success with the wider community is right thing to do.
As a practice and a team, we have celebrated many official successes, such as becoming finalists in the Dentistry Awards in 2014, 2015 and 2019 and even having the massive achievement of becoming the winners in 2015! This was a moment I will always remember, however for me our team and practice are always the winners.
Also, over the last decade the way we promote our practice has changed, we now must be familiar with the digital age, such as social media and all the myriad of forms that takes.  In our true Treetops spirit and style, we have managed to have a regular monthly newsletter, which now has a whopping 900 subscribers!  We try to post on Facebook twice a day to engage with our patients and keep them up to date with practice changes and additions. These forms of communication have proven invaluable over the pandemic. We have recently added are our own Instagram account to our communication aids, we use this to share our clinician's treatment successes and share our promotions from time to time.
Overall, I really hope that you can see how much we have grown in the last 11 years and how many successes we have been blessed to celebrate together and all with the focus of 'Patient Comes First' as the cornerstone to all we do.  Here isto the next decade!!
Thank you for all your support and kindness over the years
Love Polly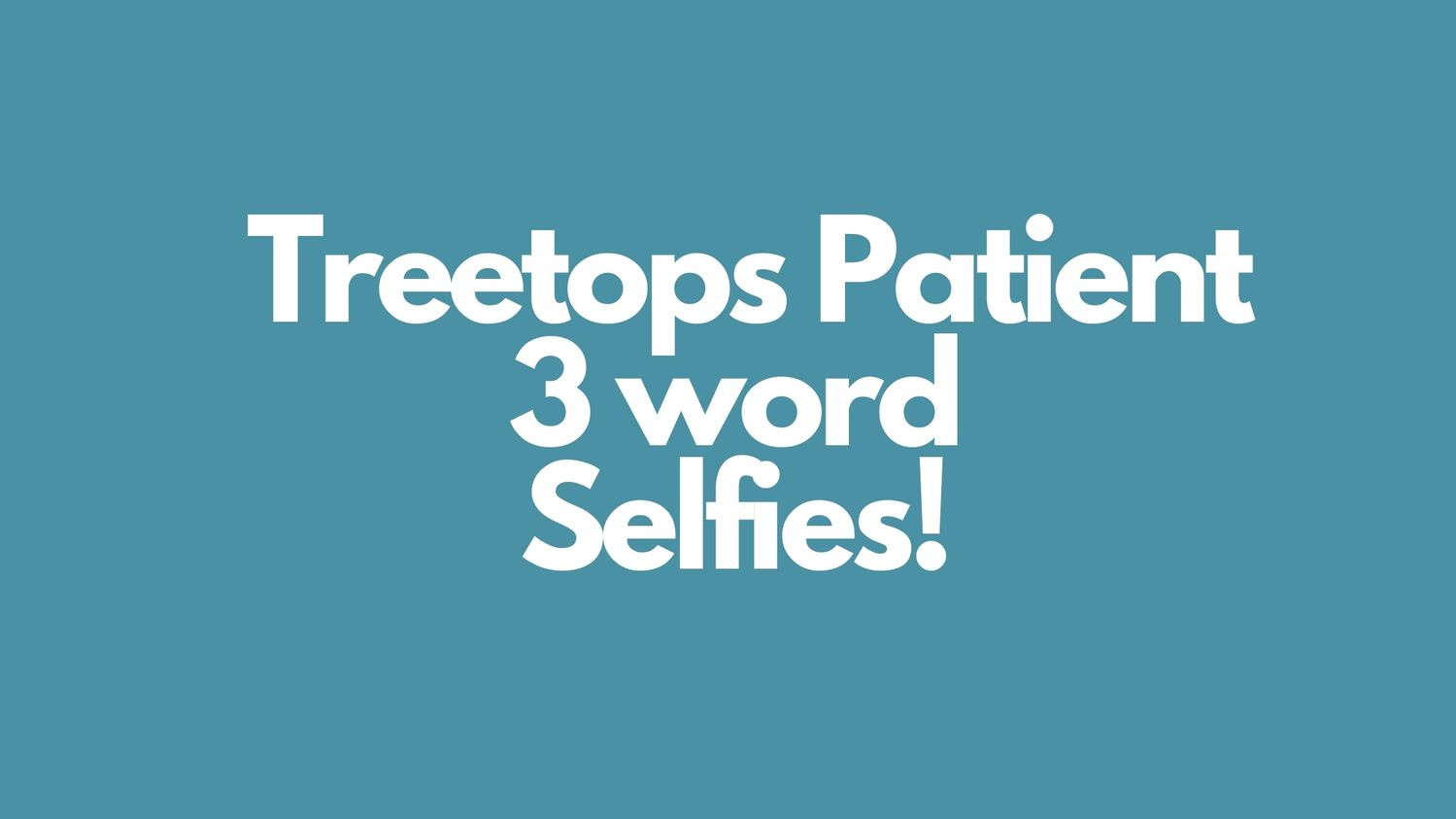 Recently we asked our patients if they could describe us in three words, and this is what they said!

Thank you so much for your kind words, it was a real boost to the team!

Here are just a few of the words our patients chose below:
Recently the Treetops Team joined together to have a Team meeting to discuss an exciting new venture!

Treetops have now welcomed the opportunity for two of our clinicians Dr Amit Pankhania and Kaye Higgs to perform Facial Aesthetics in our Surgery!

Now as well as caring for all aspects of your dental health, we also offer you the opportunity to make a noticeable difference to your skin and how you look, with our safe, effective non surgical facial treatments.  They can create a smoother and younger looking skin or enhance aspects of your facial features. Here are some of the treatments we are now able to offer:

Anti-Wrinkle Solutions
Anti-wrinkle treatment sometimes known as Botox, involves injecting a natural substance derived from a micro-organism into your area of concern. This relaxes muscles and reduces the appearance of fine lines and wrinkles.

Here at Treetops we use Azzalure® which is adapted from the botulinum toxin type-A of Dysport® and has successfully been used for over 20 years and is specifically designed for use in aesthetic solutions

Dermal Fillers
Face fillers, otherwise known as dermal fillers, are small injections of gel, made up of hyaluronic acid, that fill in wrinkles and add volume to soft tissue. You can have dermal fillers in different parts of your face: around the eye, cheeks, mouth and jawline, as well as lip fillers administered directly into the lip tissue.

Profhilo Treatment
Profhilo is a skin booster, known as the 'injectable moisturiser'. The key to its popularity and amazing results is down to its unique structure and balance of scientific properties, this allows the product to flow freely through the subcutaneous tissue and the dermis of the skin, in a way that traditional hyaluronic acid fillers cannot.

Sunekos Treatment
Sunekos is an injectable treatment that's entirely different to filler treatments; this treatment uses a patented formula which combines amino acids (the essential building blocks of elastin and collagen) with hyaluronic acid. Sunekos regenerates the Extra Cellular Matrix (ECM) of your skin. It is ideal for those who want to restore the naturally youthful look of your skin and improve signs of ageing.

Vitamin B12 Injection
B12 injections are a surer method than supplements as they deliver the vitamin directly into your bloodstream so it does not have to battle with the digestive process like tablets do. It is not possible to overdose on vitamin B12 as it is not a storing vitamin and the body excretes anything it doesn't need.

Vitamin B12 Injections can help to combat:

Extreme tiredness
Lack of energy
Breathlessness
Feeling faint
Headaches
Palpitations
Loss of appetite
Pale skin
Irritability/ depression
Decline in memory
Mouth ulcers
Here we are totally fascinated in how the new treatments work and how Facial Aesthetics can have a massive affect on peoples skin and wellbeing.

If you are interested in any of the treatments mentioned, please do give us a call on 01902 842 555 or email us on reception@treetopsdentalsurgery.co.uk

Hopefully we will see you soon!
Cosmetic Dentistry

"Beauty is in the eye of the Beholder"

What is Cosmetic Dentistry?
Cosmetic dentistry is the branch of dentistry concerned with improving the look of the mouth – this includes teeth and gums!  The interesting thing about cosmetic dentistry is that it is totally unique for different patients, as everyone's opinion as to what looks good is different. What works for one smile won't work for another.
There are a couple of golden rules which we follow when thinking about what looks good:

The Golden proportion
A special measurement which relates teeth to each other. If teeth are in the golden proportion (as in the image below) they are deemed to be cosmetic

Symmetry
Obviously teeth look better if they are symmetrical!
Here at Treetops we take the Golden Proportion and Symmetry into account when planning your smile, and can even digitally plan how we want your teeth to look at the end of treatment.

What things are on offer?
We are able to offer the full complement of restorative cosmetic dentistry. Here's just a sample:-

Tooth Whitening
Who wouldn't want whiter, brighter teeth? This minimally invasive treatment can rejuvenate your smile, eradicate age related yellowing and can be done with minimal sensitivity using a system called Enlighten. (We are an enlighten centre of excellence by the way!)

Composite (White fillings)
We are able to change old silver fillings to white. Not only are these more cosmetic but white filling actually bonds to tooth structure and so can be good for teeth which are weak.

Here are some fillings which we changed to white for one of our patients
Composite Bonding
Composite Bonding is the addition of white filling material to front teeth. It has been around for years, but has only recently really taken off. It's popular at the moment because we don't have to drill teeth, most of the time it can be done without anesthetic and sometimes they can be more cost effective than other treatment options.

Here is some composite bonding treatment that we've carried out to close a gap.
Veneers
Veneers are very thin (think of a fingernail thickness) pieces of porcelain or composite which are bonded onto your teeth. They can be used to change tooth shapes, brightness, colour, angulation … the list goes on!

Gone are the days when we have to drill down teeth to carry out veneers too. When tooth reduction is required it is generally between 0.3-0.7mm. Porcelain veneers look FANTASTIC.

We'll let you judge for yourself
Tooth Straightening
Recently our patients have been coming to us wanting straight teeth. Although we can do conventional "traintracks" where wires and brackets are bonded to your teeth, at Treetops we can offer invisible removable braces called "Invisalign". These slowly and gradually move your teeth into the correct position – and not many people know that you even have them in!

The full Package
To get the best results sometimes we need to look at combining treatment options. A treatment modality which works well includes:-

Step 1 Invisalign treatment
Straight teeth look better and are easier to clean

Step 2 Tooth Whitening
Brightening of your teeth

Step 3 Composite Veneers/Bonding
To finalise and perfect the shapes of your teeth

At Treetops we will plan each stage of your treatment, and recommend what we think will work best. Following the rules of symmetry and the golden proportion we can make a bespoke plan just for you and work together to give you the smile which makes you feel confident.

Thank you Amandeep
Your Covid Patient Journey 
Even though our freedom is increasing and there is a strong bright light at the end of the tunnel, our Covid safety procedures will remain unchanged.
Should you have been abroad (even if it is classed as a 'Green List ' country) we ask all patients not to attend the practice until they have been back in the UK for 2 weeks.
Our waiting rooms remain closed
Checking in for your appointment remains via phone from the car park
We Covid assess every patient prior to entering the building
The wearing of masks within the practice premises is still required
Personal belongings are still not permitted into the surgeries 
Please be assured that yours and our team's safety are at the forefront of all we do. We really do appreciate how you have all supported our safety procedures and when our procedures change we will let you know.
Great news – Increase in Hygienist appointments
We are now in the fortunate position to increase our hygienist availability.  Chanel will now be available every Wednesday and Friday and we also welcome a new hygienist to the Treetops family; Alison will be working on a Monday and joined us this month.  If you are due a hygienist visit please do call us.
We apologise for our waiting times
Our waiting times for appointments are not  ideal and we are sorry that you have to wait longer than you, or we, would like.  The Covid pandemic has affected how we function and how many patients we can see and sadly, even though we have increased our working hours, increased our Clinicians and upgraded some of our surgeries, waiting times are still not ideal.  We thank you for your patience and understanding.
I hope that you are all keeping well and safely enjoying meeting up with friends and family again. I hope that you have enjoyed reading our Treetops updates and wish you a safe and sunny July.
Best  wishes
Louise
We Thank you so much for your wonderful feedback, It means the world that our patients think so highly of us, and also take the time out of their busy day to let us know we are appreciated.

Thank you!